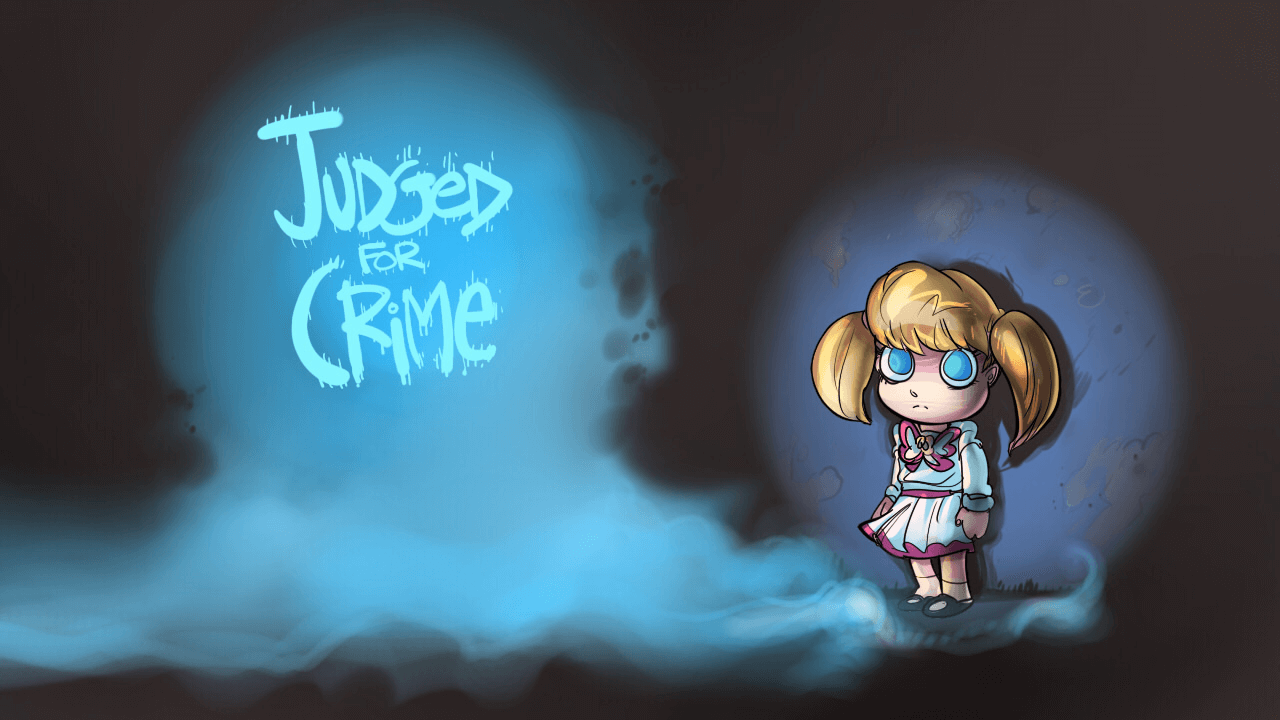 Judged for Crime
A downloadable game for Windows
In the years of industrial revolution, a young girl wakes up to find that her parents are blamed for the disappearance of the guardian spirit of the city.

You have 50 minutes to find the evidence which proves that your parents are innocent.

Will you be able to find out the true guilty ones?

Features

Guilty person is random each game; 3 possible people who can do it
Find clues, investigate and collect evidence for the trial!
Intelligent dialogue tree options; you cannot ask about people you don't know
Things change based on the time
Multiple endings
Immersive lightning system
And more!
| | |
| --- | --- |
| Status | Released |
| Platforms | Windows |
| Author | TuomoL |
| Genre | Adventure |
| Made with | GIMP, RPG Maker, Audacity |
| Tags | 2D, Atmospheric, Casual, Female Protagonist, Mystery, Short, Singleplayer, Steampunk, Touch-Friendly |
| Average session | About an hour |
| Languages | English |
| Inputs | Keyboard, Mouse, Xbox controller, Gamepad (any), Touchscreen |
| Accessibility | Subtitles, Configurable controls |
| Links | Twitter |
Download
Click download now to get access to the following files:
judged-for-crime-win.zip
245 MB
Comments
Log in with itch.io to leave a comment.
This was a great game. I had a blast playing it!
This was pretty interesting! I had some issues finding the three girls while playing hide and seek, as they were pretty hard to see. I liked the idea that certain choices you made caused your time limit to be decreased, as you had to choose your words carefully when talking to others. I thought that I just had to wait for the time limit to be reached so I could go to my parents' trial, but that just caused a game over. Was there a specific person or place I had to go to in order to instigate that? Other than those questions, I had a great time and this was a good game! Good job!
Yes, you must bring evidence to Captain, the redhaired lady with black top hat in that large round building. You need to get 3 evidences to save your parents.

Loving the game and the concept, however, when Miranda tries to leave the house, I encounter a bug - the game stops and tells me to report it. Something to do with a certain parameter...
Hello, that sounds strange. Can you tell me what the bug says?

Game has encountered a bug. Please report it.
TypeError: Failed to execute 'getProgramParameter' .. 'WebGLRenderingContent': parameter 1 is not of type 'WebGLProgram'.
Press F5 to restart the game
Are your GPU drivers up to date?

Probably not (my laptop is a dinosaur, I really need to replace it). You suggest I renew the drivers?
Yes, because this sounds like an issue with WebGL to portray the effects with the fog that can be GPU intensive. Try and update the drivers and if that don't work, there is a one last thing that you can do as a last resort.

That was so interesting! I managed to save the parents, but I didn't figure out who actually did it. It left me feeling like I barely scratched the service of this place and I kind of want to go back into it.
One thing that was bugging me a bit though was the slow text and I don't know if there is any way to change it. It might just be me though.
Anyway I really enjoyed it and made a lil video about it which turned out longer than I expected (bare with me I still have a cold.)
Thanks for the review! Yeah, I chose to not give the player a choice to change message speed. Doing so and making message instant would make the game way too easy, you know?

You forgot that Bartender told you about a nun appearing on evenings near the statue. You should try it again, the guilty one is randomized each time you start a new game! It can even be Chastity who was nice to you here.

Hey TuomoL! God that game gave me a time rush (or should I say gods, or demigods?)!
I found an odd audio and file bug. It's not game breaking, and I finished my play (PLEASE MAKE MORE!) but I wanted to let you know about it!
The game would keep telling me that it was experiencing a bug and couldn't play the audio for the music in the game. The only time these bugs popped up was after playing the clown game. It only seemed to happen if I beat the game, so I assume it's something to do with the item I would have received for winning. Restarting the game fixed the issue, but put me behind where I was, so saving became an important task. I never got the item. Instead, I finished the game without it.
Since it's said that the clown item changes (or suggested, maybe I'm misunderstanding what the person said, avoiding spoilers) I'll say from what I saw, it's a time passed item I would have received after the 30 minutes marker (I was around 25 minutes to game over) in the evening in the game. I recorded my game play, bug and all, so when I'm done editing, I'll include it!
Amazing game! Sorry, I need to praise it again!
Seriously, make more! I need to see what happens next! The concept you included at the end for a part two or an add on to the game was brilliant! I would play that game, no doubt!
- Maya
SPOILERS SECTION! THIS IS MY HONEST REVIEW PART WHERE I MAY MENTION GAME DETAILS, THOUGH I WILL AVOID BEING DIRECT OR RUINING PLOT:
Best time crunch game I've played in a while.
7/10
The 7 is because the game didn't give the player varieties of evidence. Though the game was very well made, I had to assume who was guilty based off the amount of evidence as well as the incredible lack of evidence for others. Only two suspects and a third that is never discussed. The game also subtly tells the player which evidence is good, which is not, which is evidence towards the actual criminal and which is towards an innocent. There are literally only a handful of pieces of evidence to find, though there maybe more that I didn't see in my gameplay.
There is however, heart throbbing moments and a very well made puzzle in a smooth, well made game with a good plot. If there was more evidence, more paths to pursue, more suspects, or more plot twists/dead ends, I would rate this game a solid 9. There are bugs that require game resets and there are few issues with the plot that keep me from giving a 10.

This is a very good game! PLEASE make more!
EDIT: I found the bug, I'll fix it today!

Hello Maya, thanks for playing my game! That's really strange, I've played the clown game many times and haven't seen any problems on any of the test that we've had. What music was it referring to? I'll fix it asap.

Yes, this is where the time limits of the month come in. The puzzles and the evidence and interacting with enviroment and more locations and places you can meet the subjects in would be added. The town is expanded and you could meet the said doctor for example that is mentioned in mother's journal. A lot of this had to be left out for time contraints. But if I win you will see a game that has a lot more things and the concept of a time utilized in many ways as underlying theme as I mention in the credits.

Thanks for feedback!

i cant seem to solve the puzzle from the chest in the parents room
If you can't figure it out yourself Miranda gives you a clue before the timer runs out to prevent it from making you lose
MINI SPOILERS AHEAD | NOTHING GAME REVEALING OR ANY PUZZLE SOLVING SOLUTIONS BUT JUST IN CASE, DON'T READ IF YOU'RE PLANNING TO PLAY THE GAME AND AREN'T HAVING ISSUES WITH MOTHER'S COMBINATION CODE!!!
I know, it stumped me at first really well. I thought I had to search around for a number, but they never give you a "number." I know a bit of a hint, but I don't want you walking around looking for a number that doesn't exist! There are clues, hints, but there isn't anything solid like most games where they give you the number on a found slip of paper or a character tells you it. The answer is there, but you need to think! That's one thing I loved about this game! It had me thinking the whole time in a subtle way that felt like a realistic mystery.
I recorded my game play of this game, and I'll upload it when I'm done editing it (my audio was an hour long, mostly because bugs had me exiting and restarting the game). This game is pretty good! I loved it. When you figure it out, you'll see what I mean!
Good luck!
- Maya
EDIT: I've found the audio bug and I'm uploading an update!

What are these numerous bugs? Can you please give a more detailed information, so I can fix them? I've not seen any of these bugs and no one has reported these to me and I've not seen anyone have these bugs either.

Don't worry! There aren't numerous bugs! I've only found file and audio bugs with the clown game. The game was very well made, this one bug just required me to reset the game enough times that it added onto the time it took me to record (I record bugs and bug fixing as well as game play incase a dev needs it)
- Maya
Well, I've fixed it and the fixed version has been online. Sorry about the trouble, as I said you're the first one to have this issue.


You don't need to show that bug in a video since it's already fixed. :)